Hello again! Once again this is a blog post that is well and truly overdue… Life has been keeping me very I busy…
So, I took to my Instagram stories to ask my lovely followers what they wanted to see as my next blog post and 'Makeup Favourites' was one which popped up regularly when I looked through the suggestions. I absolutely love makeup and love how confident it can make a person feel! I am far from good at makeup but its defiantly something I would like to get into so if there's any makeup artists who would like to give me a makeup lesson hit me up!!!
Primer
As I'm in college a lot of the time and working a lot I think it's important that my makeup can last a full day without touching it up. I've had the same favourite primer for well over a year now as it's something I'm not ready to change any time soon! This primer is called '' radiance foundation primer'' by Laura Mercier. It works so well as a primer under foundation and even without makeup for healthy glowy skin. I picked up this primer at the Laura Mercier counter in Brown Thomas and it retails for €41 euro. Another similar product I love is the ''instant light complexion corrector'' by Clarins . This looks really well on bare skin for no-makeup days.
Foundation
My all-time favourite foundation is the Mac Studio Fix foundation in shade NC35. As someone with very olive toned skin I think this foundation and shade works well with my complexion. This foundation is defiantly medium/full coverage but can easily be built up from a medium coverage for college to a full coverage for nights out etc. I would defiantly recommend going into MAC and ask them to shade match you and ask for a sample to try before buying. This is defiantly a foundation that wont suit everyone as we all have different skin and look for different things in a foundation so defiantly try it out first! A bottle of Studio Fix Foundation by Mac retails at €32.
Concealer
Concealer is defiantly one of my favourite makeup products. The satisfaction of covering up dark circles is just way too fun for me! Unlike some people I only use concealer to cover up my dark circles and for high points of my face like my chin and my forehead and nothing else. I find if I put concealer on my spots it makes them look cakey and ultimately draws more attention to the area. My favourite concealer is the Note Full Coverage Concealer in the lightest shade. It is extremely well priced at only €4.95. For the days where I don't want to wear makeup and just cover blemishes etc I opt for another concealer by the same brand. This is the Note Cosmetics Mineral Concealer which costs €14.95. It blends well with my skin tone so its perfect for no-makeup days.
Powders
Powder is something that I defiantly don't use as much as used to. I'm all about that dewy skin so I literally use the bare minimum to set my face just, so my bronzer and foundation don't mix to make a dirt track down the side of my face!! I use a light powder to set my concealer. The powder I use to set my face is the Studio Fix powder by Mac in NC30 which retails at €32.  Then I press a bit of lighter powder into my skin with a beauty blender and carve out below my bronzer, which I eventually brush away. For this I use a Wet and Wild contour duo in shade 'Toffee' and use the white powder €5.30.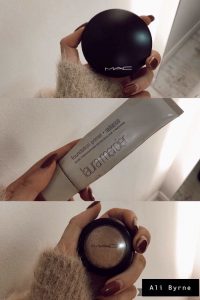 Bronzer
Bronzer is my absolute favourite product. I think it adds such a healthy sun kissed look to the skin. Once again, my go-to bronzer is by MAC. Recently I was introduced to the shade ''dark tan'' when I was getting my makeup done there for an event. It is by far the most pigmented bronzer I've used and can be built up for however way you like your bronzer. This bronzer and shade go very well with all the other makeup products and ties the whole look together. This bronzer retails at €28.50.
Highlighter
I've recently become a huge fan of liquid highlighters. I think highlighter is something that can be overdone but with the right products can make a makeup look extremely fresh and healthy. I mix the Wet n Wild Megaglo Liquid highlighter €6 with my foundation and it gives a flawless finish to the skin. I then use MAC cream highlighter ''hush'' €22 to highlight all the high points of my face. Usually for a night time makeup look I will go in a with a powdered highlighter to intensify the highlight.
Brows
Fortunately, I have very thick eyebrows, so I don't necessarily have to wear brow products every day. Give me a spooly and I'm good to go! When I am using eyebrow products, I try to stick to an ash blonde/brown shade as that always best with my natural brow colour. Benefits ''gimmee brow volumizing eyebrow gel'' €26.50 has changed my life! This product is so good for people who only need to enhance the brows slightly. It is extremely easy and quick to use.
Mascara
My mascara changes daily as I'm not very fussy when it comes to mascara as long as it can enhance my eyelashes and make them look fabulous. I usually find myself opting to Rimmel's ''lash sensational'' €10.79  as it always does such an amazing job at enhancing my lashes making them super fluffy and long.
Thank you so much again for taking the time to come and read this blog post! If anyone as any queries or even suggestions on products, please feel free to drop me a comment here or DM on Instagram as that's where I will get back to you fastest. Thank you!
Ali x