As ye probably all know I love a good city break and luckily my best friend Katie made this possible…
We flew from Dublin to Barcelona in just over two hours, so this meant that we did not loose any time spent travelling.
Day 1- Tuesday
When we arrived to Barcelona we decided to get a taxi from the airport to the hotel as we were tired from travelling and just took the easier option. A taxi from the airport to the city was roughly around €25-€30. We stayed in 'BCN Urban Hotel Rossello' which was a really nice hotel located about 1km from La Ramblas which is the most popular area in the city for shopping etc. As we weren't allowed to check in till later in the day we decided to venture around the city in the meantime. We stumbled across the most delicious Brunch café called 'OMA'. We got amazing food here and it was at such a reasonable cost. Later, we headed towards La Ramblas where we browsed in some shops and of course ended up buying a few things… typical!! All the walking had caught up on us later that day when we arrived at the hotel to check-in and we collapsed into our beds for the next few hours. That evening we decide to get dressed up and head back into the city centre to try some traditional Spanish Tapas which ended up being so lovely and defiantly a must when visiting everywhere in Spain!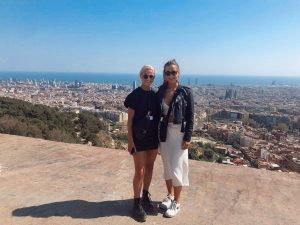 Day 2- Wednesday
On Wednesday morning we woke up early and had already planned a very exciting day for ourselves! For breakfast we went to 'Brunch and Cake' which was defiantly the prettiest café I've ever been to, so of course lots of pics in this spot. I had a breakfast burrito and an iced coffee which was so good. This was yet again such a reasonable spot to eat in! We headed into the city centre to get to our Hop-on Hop-off Bus Tour around Barcelona. We bought tickets for the Bus tour online the night previous just for convenience and it only cost €30! This ticket allowed us to get on and off at any stop we wanted, and the buses ran about every 10-15 minutes. I had heard that the Gothic quarter was beautiful, so we hopped off here and explored this area before stopping to eat, again!!!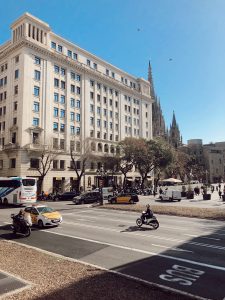 We went to a restaurant called 'Milk' and yet again the food was amazing. Very close to this area is the port where there's many pretty things to see and places to get a drink which of course we did. Of course, we had to experience what the night life was like, so we went out later that evening. We went to 'Oshko' which is a bar that turns into a nightclub at around 12:00am. This place was such good fun and we met loads of people of all nationalities. The one thing I will say about this place is defiantly buy your own drink before going as drinks were SO expensive, our bank accounts learned the hard way… In that being said its defiantly worth going out for one night of your trip if your looking for a good party scene.
Day 3- Thursday
On Thursday, we went to Cup and Cake for breakfast with two severely hungover heads… we decided to dedicate this day to visit the Sagrada Familia which had been highly recommended to us. When we got there, we received a small device which gives you a tour and brings you to all the different spots around it and tells you all the details about the stunning church. This was defiantly one of the highlights of the trip as we were absolutely blown away by the architecture and the detail of it all. Holy or not holy, this is defiantly something you need to Visit if your visiting Barcelona.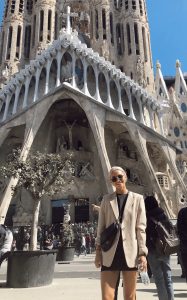 The tour of the Sagrada Familia only lasted a little over an hour so we had the entire day left to do something. We had become familiar with the metro, so we hopped on and decided to head to El Carmel, as we knew the Bunkers were located here. We were well unaware of the hike ahead of us, so this is my warning to you…When we reached the bunkers, we experienced a breath-taking panoramic view of the City of Barcelona. We had walked so much that day that when we arrived back to the hotel, we accidently napped and woke up more disorientated than before we fell asleep (I swear to god we are good craic!!!). Later that evening, we were in the mood for a burger of some sort so used google to locate a place near to our hotel. We found a restaurant called 'Oval' which ended up being our favourite meal of the entire trip.
We were travelling back to Dublin and then to Cork on Friday, so we had an easy morning and didn't do much. We had such an amazing trip to Barcelona and enjoyed all the attractions/restaurants visited. If your going on a city break there any time soon I would advise you to defiantly check these spots out and defiantly be conscious of your bag! Hope this was a help to anyone visiting soon!
Chat soon,
Ali x