Girls my age are always texting me on Instagram asking about how I can afford my clothes and the answer is  I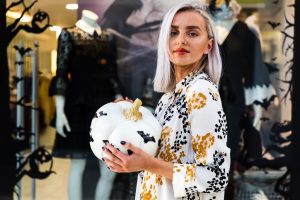 work hard and save up some of my money! As a college student I think having a part time job is one of the main things that keeps me going, financially and physically. Working for me is a time to get away from college work and to face the real world and help people who seek my knowledge.
I work in a Women's Boutique called 'itso me' in Douglas Village Shopping Centre and it's here where I gain and insight into the working world of Fashion. The shop caters for every woman's needs with stunning quality brands including Ted Baker, Inwear, Part Two, Karen By Simonsen and Joules. One of my main reasons for starting this blog in the first place is from the encouragement of my amazing Boss Vicki. She has welcomed me into the shop with open arms and has guided me along the way with the help of the two other amazing staff Ruth and Paula.
From working here, the past few months has made me really interested in maybe starting my own business one day! Who knows what the future holds….
Ali x